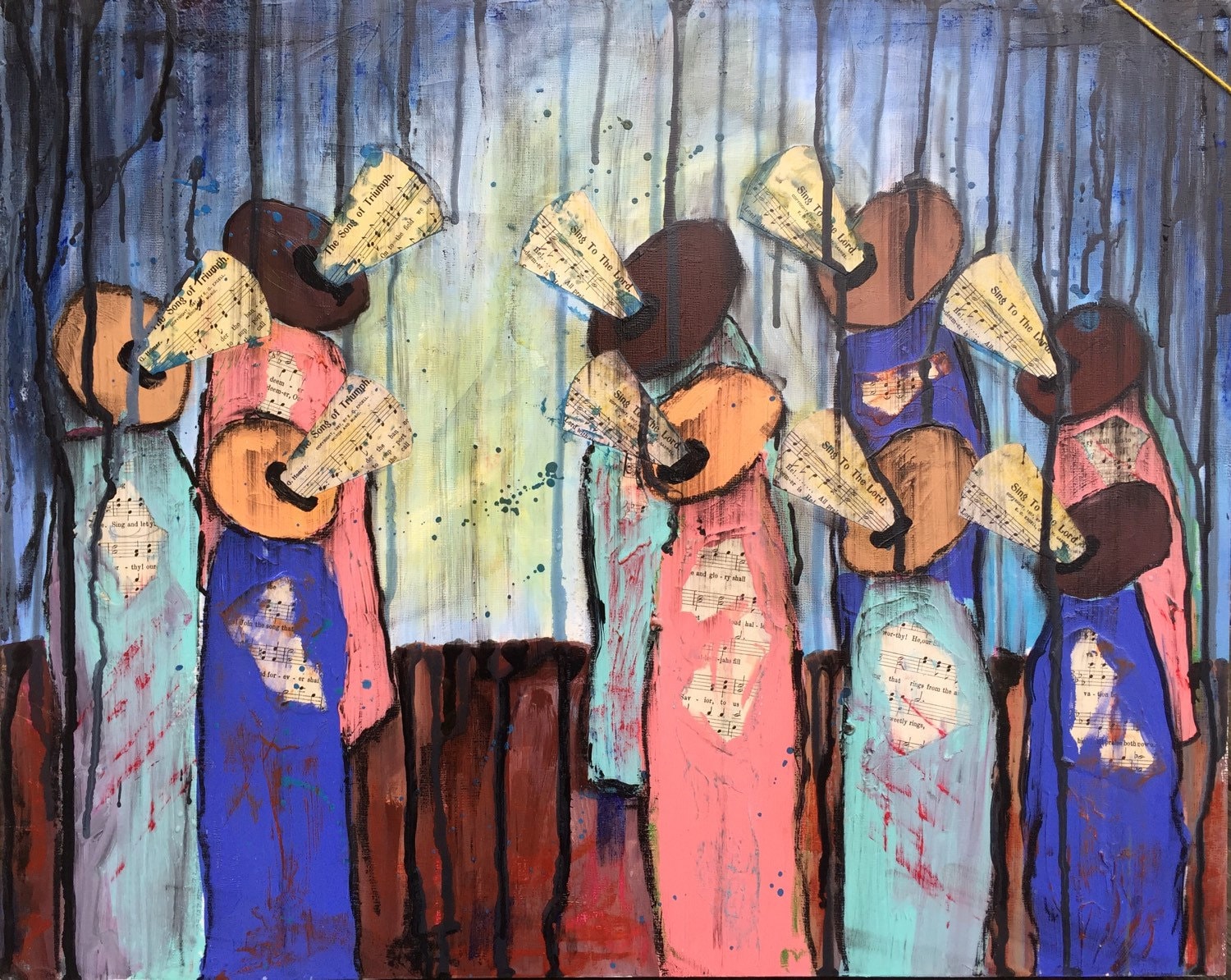 Key to understanding this week's Gospel is this verse from Moses in the book of Deuteronomy: "Then you came near and stood at the foot of the mountain, and the mountain burned with fire to the midst of heaven, with darkness, cloud, and thick darkness. And the LORD spoke to you out of the midst of the fire. You heard the sound of the words, but saw no form; you only heard a voice. So He declared to you His covenant which He commanded you to perform, the Ten Commandments; and He wrote them on two tablets of stone. And the LORD commanded me at that time to teach you statutes and judgments, that you might observe them in the land which you cross over to possess."
Lending more insight into the background is the book of Hebrews: "For you have not come to the mountain that may be touched and that burned with fire, and to blackness and darkness and tempest, and the sound of a trumpet and the voice of words, so that those who heard it begged that the word should not be spoken to them anymore. …But you have come to Mount Zion and to the city of the living God, …to Jesus the Mediator of the new testament, and to the blood of sprinkling that speaks better things than that of Abel."
This passage from Hebrews proposes two ministries corresponding to the two testaments. The first ministry is of darkness and tempest, fear, and Abel's blood crying out for vengeance. There is a certain "code" assumed under the Law and the way of Abel's blood. Sin is breaking the commandments; righteousness is keeping the commandments; judgment is based on the keeping of these commandments; when a commandment is not kept, it rightly deserves God's vengeance and judgment.
The second ministry is not of fear, but comfort, not darkness, but light, not the terror of God's Word, but the advantageous and lovely hearing of God's Word, and a new blood speaking new things, like, "Given and shed for the forgiveness of your sins." That's advanced beyond Abel's blood crying for vengeance. A new code is assumed as well. What code is this? What does this code say about sin, about righteousness, and about judgment?
Jesus tells us exactly what this code says about these things. But lets back up a bit and prove we can use that Deuteronomy text as a background.
Jesus tells His disciples, "But now I am going to him who sent me," and later says of this, "I go to My Father and you see Me no more." (Given all we said last week, this "seeing" would be in the non-mystical, earthly-form-of-Jesus, sense.) The point Jesus is making, if indeed the words of Moses at the end of his ministry are the background (there's a parallel with Jesus' last words to His disciples here), is that, though like God, Jesus the Lord has no form that you might see Him, yet you hear His Voice.
That "Voice" is the Holy Spirit. Now, in the Old Testament, it was the hearing of this Voice that terrified the people. This was the Voice of the ministry of the Old Testament, a ministry of fear, Law, and judgment. But, as Jesus says, the "Voice" will be declaring something new about sin, righteousness, and judgment, something different than what the Old Testament "Voice" declared.
What changed?
What changed is Jesus went to the Father and sat down at God's right hand. He restored what Adam had lost, fellowship with God. Without that fellowship sitting at God's right hand, Adam remains estranged from God, separated from Paradise, locked outside the gates. But once Jesus sat down, fellowship was restored, by a man, the second man, on behalf of all mankind.
The foundation is laid down for a new creation, through a new "Voice" declaring new things. What things? Whatever Jesus has gained by sitting at God's right hand. Whatever Jesus possesses – gained by His attaining this position – He grants to us by the Holy Spirit's declaring, that is, by His comforting voice.
As the Old Testament for this week says, "Your anger is turned away, and You comfort me." Yup! Turned away because, how can God be angry at Himself? His Son? Adam and His children were easy to be angry at because of their rebellion, but the man Jesus? And all those begotten of His Word? No, His Word delivers nothing but good, for as the Epistle says, every good and perfect gift comes from the Father of lights, in whom is no variation or shadow, but only goodness, and if we shut up and listen humbly (as St. James says), that Word will produce in us nothing but goodness, saving our souls.
So, where in the Old Testament, that "Voice" from the formless One spoke fearful things about sin, righteousness, and judgment, that "Voice" will prove correct (convict) to the world new things about these things.
About sin, He will declare that, where in the past, sin was breaking God's Law, now, sin is not believing in Jesus, the One righteous one who fulfills the Law and ends the curse.
About righteousness, He will declare that, where in the past, righteousness was about keeping God's Law, now, righteousness is Jesus going to the Father. Jesus is our righteousness at God's right hand, our restored fellowship with the Father. That scepter given Jesus when He sat at God's right hand and gained His kingdom is a scepter of what? "A scepter of righteousness is the scepter of Your kingdom." Those who believe in Jesus have no sin, but Jesus is their righteousness before the Father, and their accuser? Well…
About judgment, He will declare that, where in the past, judgment was about those who kept or broke Gods' Law, and Satan had plenty with which to accuse everyone, now, judgment is about Satan himself, for, "for the accuser of our brethren, who accused them before our God day and night, has been cast down. And they overcame him by the blood of the Lamb and by the word of their testimony, and they did not love their lives to the death. Therefore rejoice, O heavens, and you who dwell in them!"
Yes, rejoice! Jubilate! Or this week, make it a song, for the Lord is our song. Cantate!
From the introit: "Praise the LORD, call upon His name; Declare His deeds among the peoples, Make mention that His name is exalted. Sing to the LORD, For He has done excellent things; This is known in all the earth."
Or put another way: liturgy. Call upon His name (invocation; confession/absolution; Kyrie). Declare His deeds among the peoples (readings; sermon; creed). Make mention that His name is exalted (Gloria in Excelsis; Gloria Patria; Sanctus). Sing to the Lord, For He has done excellent things (canticles; hymns). This is known in all the earth (the public proclamation that communion is).
The Lord is our song; the Lord is enthroned in the praises of Israel. The hymns of God's people is to the ear what incense is to the nose. Cantate!