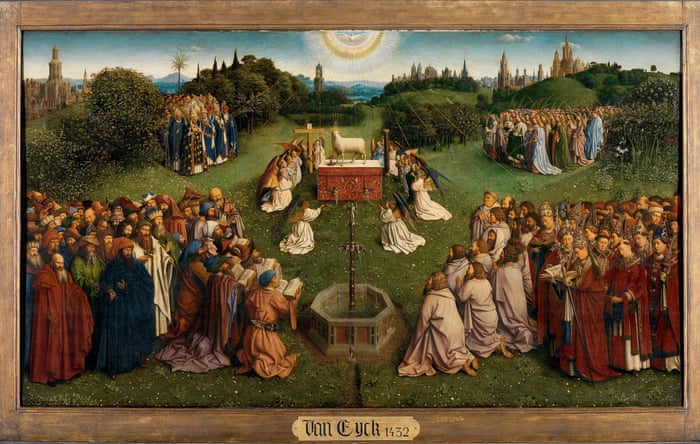 When the Spirit of truth comes, he will guide you into all the truth, for he will not speak on his own authority, but whatever he hears he will speak, and he will declare to you the things that are to come.
One of the jobs of the Holy Spirit, when He comes, will be to declare to the apostles "the coming things." I use that phrase rather than "things that are to come" because not only does it accurately translate the two word Greek phrase, but to my ear it softens the futuristic feel of "things that are to come." In others words, "things that are to come" sounds as if the Holy Spirit will inspire the apostles to prophecy about future events, and that this is a central work of the Holy Spirit, to help Christians predict future events, the "things that are to come."
But "coming things" to my ear sounds more like, "things that will be happening." True, this is futuristic as well, but in a more steady sense, perhaps. "Things that are to come" sounds mysterious and prophetic. "Coming things" sounds more regular. Maybe my ear is wrong, of course. In any event, what am I getting at and why is this important?
We have to remember the context of this Gospel and this passage. The Holy Spirit will only be sent out once Jesus has completed fully His mission, which is completed once He sits down at God's right hand. Christ's sitting at God's right hand is our righteousness restored, or status with God restored, the end of the curse of our sin, and the judgment of Satan. And this is what the Holy Spirit will deliver to us by declaration. "He will take what is mine and declare it to you."
That is the "coming things"! What Jesus has attained on behalf of us is what is "coming," that is, coming for us. It's what we will have when we fall asleep in Christ. By the Holy Spirit declaring these things to us now, we possess them by faith, and they bolster our hope and love as well.
They also build that "cosmic architecture" of the liturgy which I've referred to. The liturgy is the "coming things." It's our passing through judgment and brought into the presence of God, surrounded by angels (introit, Gloria in Excelsis) and all the company of heaven, including our "fallen in the faith" loved ones (Sanctus). It's our feasting in the presence of the Lord (Holy Communion). It's our confidently approaching the throne of our Father, not groveling in fear, but standing in His love (Gospel, the Our Father). It's the Lord's face shining on us and being gracious unto us (benediction). It's all of these things. These are the things which will be happening once Christ sits at God's right hand.
That's our future. To look at the Holy Spirit's work as somehow disconnected from what Christ is doing right now – sitting at God's hand "preparing a place for us" (at God's right hand) – ignores the big focus of Jesus: "he will not speak on his own authority, but whatever he hears he will speak. …He will glorify me, for he will take what is mine and declare it to you. "
His words create by declaration the existential reality of the Christian, defining our true identity. This is all by faith now, but there is not a single element of our faith that doesn't have existence through material things. This is why faith sees the right hand of God in bread, hears God speak through a pastor, and sees the new creation emerging from a font of water.
What Christ speaks is given to us by the Holy Spirit and therefore claimed by us: " For You will not leave my soul in Sheol, Nor will You allow Your Holy One to see corruption. You will show me the path of life; In Your presence is fullness of joy; At Your right hand are pleasures forevermore."
These things are "see" and "shown." And they exist "in [God's] presence" and "at [His] right hand." There, there is joy and pleasures forevermore. These are the "coming things," the things that will happen once the Holy Spirit begins His work.
I know it's more sexy to see Jesus' promise about the Holy Spirit telling us of "the things to come," as a promise that He'll give us secret prophecies about future events in this world, but these things are all passing. Such "things to come" become "things that passed" just as quickly, as they fade away in the rear view mirror.
The things Jesus promises the Holy Spirit will declare become "forever" things, for He abides with us "forever." And His task isn't to keep us a few steps ahead of the world's news cycle, because He's giving us tips on which Middle Eastern country will hate the nation of Israel next, so some evangelical can make a lot of money on his latest sensationalistic book.
Those aren't the "coming things" Jesus is speaking about. The "coming things" He's speaking about are thing which came into being that first Pentecost: baptism, hearing Law and Gospel, being exhorted by God's Word, fellowship in the apostles' teachings, recitation of the prayers, and joining together for Holy Communion. In other words, the Church. That, is the "coming thing," and the "things" are all the verbal elements that craft the Church into being.