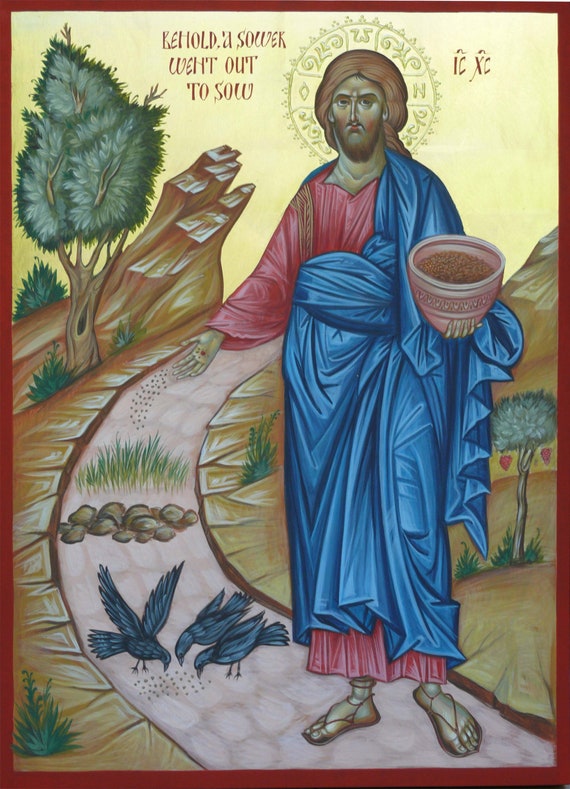 Some approach the "inclination toward entropy" (the inclination toward disorder) that is the natural state of the world and see a tyrannical law at work. Why is there scarcity of the world's resources? Why does everything incline toward death, warfare, confusion, famine, and disease? Why does the world seemed destined to return to the formlessness and void from which it arose? And why does it seem a constant upstream battle to make any headway in this world?
Some of a more Gnostic bent will view the world as hopelessly lost and seek to escape it and all its little imprisonments, imprisonments like the need to do work they may not like, or imprisonments like the laws of economics, that govern how society arranges itself given the scarcity of resources. They become darkened in countenance and even dress, melancholy about the state of the world and longing to be free of all its tyrannies.
Others will jealously guard their own lot in the world and make their little heaven on earth. They may have discovered the secret to success in this world: work with the law of entropy and not against it. After all, if you can corner the market on a scarce item or skill, it has great value, no?
And yet others, the more energetic Gnostics, will see this latter group and claim the haves need to be forced to give to the have nots, if there would be any justice. The premise is, because the world is a "zero sum game" world, perhaps we can have some taste of a better world if everything is forced to be shared. Of course, because it is system imposed on nature by legal fiat, reality eventually rebels. The haves cease to care to produce anything at all and everything levels downward. No one likes to be forced to give: God loves a cheerful giver!
All these positions are rooted in a fundamental divergence from the image of God, that is, as revealed in the Sower. The Sower is a cheerful giver. He casts His seed everywhere, with liberality and generosity. The Sower banks on the truth that the world will supply everything that is needed, because He knows the power of the seed.
A single seed – small, hidden, insignificant– will turn dirt into fruit, vegetables, and wood. A seed of a different nature – sperm – will turn biological matter into animals to provide food for each other and for the supreme sperm-spawned creature, man. It all comes down to the seed.
The seed carries on the work of the "let there be" – the Word – of God. The Word brings out of the "formlessness and void" of the first day of creation all the elements of creation. The entire creation is God's dictionary! Every item we see is a manifestation of God's unfathomable lexicon, each element spoken into existence. Each given a name, a word.
Is God's Word infinite in terms of grace and goodness? Of course it is. Is His seed infinite in terms of grace and goodness as well? Of course it is.
The Sower went out to sow his seed. He casts it everywhere, because He's a cheerful giver. Yes, because of the fallen world, the seed is received perversely, but that's for tomorrow's meditation. For today, we rejoice in the liberality of the Sower and the perspective that allows such liberality; it's a perspective rooted in the truth that the seed will multiply in abundance.
St. Paul teaches about liberality in II Corinthians 9. It's a liberality that doesn't vote for the rich to be liberal – that's not liberality; that's theft. Nor is it a non-liberality because "it's each man for himself!" And nor is it a non-liberality because "the world's just too harsh; I'm checking out of the whole game!" Rather, it's a liberality with one's own resources because that is the nature of God, the Sower.
St. Paul draws off Psalm 112 and invokes the "God the Sower" theme laid down in this week's parable. Psalm 112 describes the righteous man who reflects the image of God: "Wealth and riches will be in his house, And his righteousness endures forever…He is gracious, and full of compassion, and righteous. A good man deals graciously and lends…he has dispersed abroad…has given to the poor…[and] his righteousness endures forever."
St. Paul builds off these words in encouraging the Corinthians to, like the Sower, be cheerful givers. He writes, "He who sows sparingly will also reap sparingly, and he who sows bountifully will also reap bountifully. So let each one give as he purposes in his heart, not grudgingly or of necessity; for God loves a cheerful giver. And God is able to make all grace abound toward you, that you, always having all sufficiency in all things, may have an abundance for every good work….Now may He who supplies seed to the sower, and bread for food, supply and multiply the seed you have sown and increase the fruits of your righteousness, while you are enriched in everything for all liberality, which causes thanksgiving through us to God."
Being grateful, having gratitude, giving thanks, goes hand in hand with liberality, because that is the proper response to gifts. And gifts are what come from God the liberal Sower of seed.
After the "thanksgiving," the eucharist, we pray that we might have "fervent love for one another." This is none other than the liberality with our own gifts – sowing them everywhere without regard to reception. It's not necessary financial, but often is. It can also be whatever it is you have in abundance, that God has blessed you with. He's given it to you so that you can reflect His own liberality, and be a cheerful sower. You need not fear giving away will leave you with less. That's not how seeds work. Eat nine apples; throw one away; and watch five apple trees grow, each bearing up to a thousand apples. A gift of one yields 5,000! You get the point. That is how seeds work.
The nature of the seed – to carry on God's creation in abundance – belies all those views outlined above that argue against liberality. A Christian's liberality is the grace of God in him.